About Us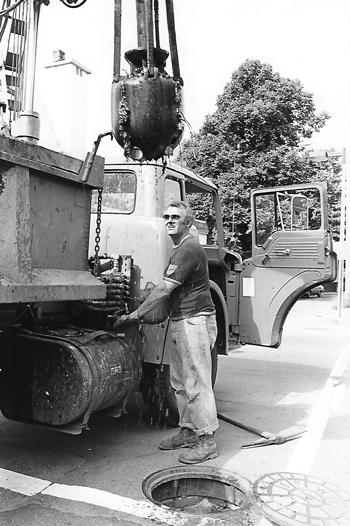 In 1958 Lloyd Truax, Sr. started cleaning catch basins with one truck. We have been cleaning catch basins in New England for more than 50 years. We have grown and have added additional services to conform with changing standards in the industry. Cleaning basins led us to flushing sewer lines. Recently the demand for accurate and detailed sewer and drain pipe efficiency has become a necessity and we began televised video pipeline inspections.
Truax continues to grow and expand. In Fall of 2018, Truax made the move into trenchless, zero dig, sewer pipeline repair. Utilizing the state of the art Perma Liner lateral lining equipment, we can now address the growing need for repair of aging pipelines for our customers.
We own the highest quality industry compliant equipment for televised video pipeline inspections, sewer cleaning and catch basin cleaning.
Our employees are our greatest asset. With little turnover and vast experience in the industry, you can be sure you will receive the best possible service from us. Most of our catch basin operators have been with us for over 10 years. Our sewer maintenance employees are PACP certified and highly educated in the industry.
Our reputation in New England is a good one. We are known for reliable and professional service at a fair price. Ask any of our customers and they will tell you:
"We Keep Things Flowing."
---
Lloyd M. Truax
Owner, President
At Truax Corporation, Lloyd is the Principal responsible for over-seeing day to day operations in the field and the office. Lloyd has extensive knowledge of the Sewer and Drain Cleaning industry after working in all areas of the business for the past 20 years. Lloyd also has years of experience in the building trade after owning his own construction business for many years. Despite all Lloyd's experience, he is known throughout the industry as being extremely approachable and willing to share his knowledge. He loves speaking with customers directly and helping them solve their drainage and sewer issues.
Jamie Truax
Field Manager - CCTV and Lateral Lining Operations
Jamie is the client manager of day to day operations relative to CCTV and lateral lining jobs. He has particular experience in dealing with large municipal jobs and works closely with engineering firms, contractors, cities and towns. He is MACP/PACP and OSHA Certified.